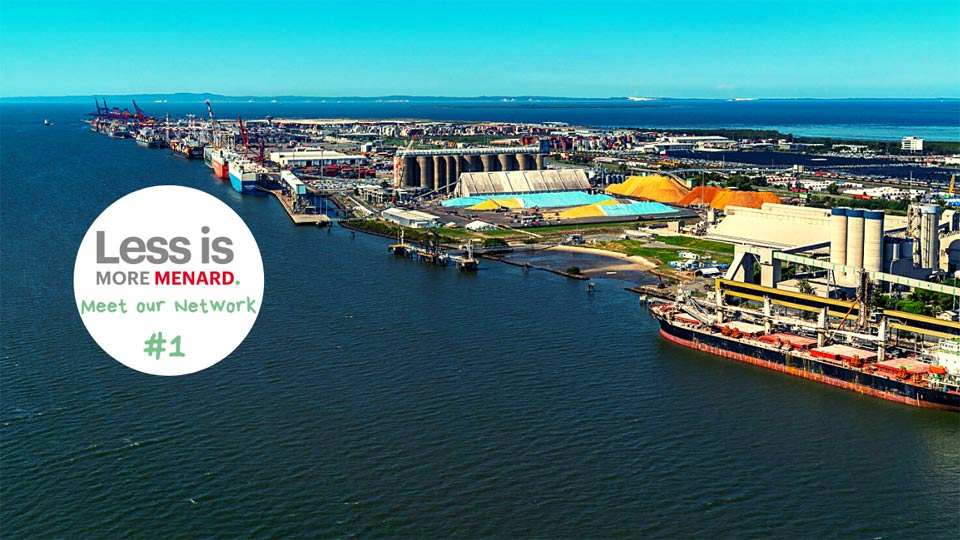 Our Less is More Menard – Meet our Network articles highlight those of our industry partners that share our vision of a sustainable future and, like us, strive to reduce their impact on the planet.
For the very first edition, we'll be speaking with Daniel Burley, head of Infrastructure at the Port of Brisbane Pty Ltd.
Our relationship with the Port of Brisbane started in 2003 and since then our companies have both developed environmentally sensible policies and a vision providing a further incentive to work together.Within these 18 years, Menard has performed numerous ground improvement projects in the Port of Brisbane area, using a variety of ground improvement techniques developed in-house, such as our CMCs and Menard Vacuum™, both of which have distinct environmental advantages over more traditional forms of construction.
Q. Can you briefly introduce yourself and the Port of Brisbane?
A. "Port of Brisbane is Queensland's largest multi-cargo port and the third largest in Australia, handling around $50 billion in international trade every year. It's truly an economic engine for the state – for example, 95% of Queensland's containerised freight and motor vehicles come through the Port as well as half of its agricultural exports.
Port of Brisbane Pty Ltd (PBPL) also proudly developed Brisbane's new home for cruising, the Brisbane International Cruise Terminal, in 2020.
As Head of Infrastructure at PBPL, my role is to take a lead in planning and delivering core port infrastructure that improves access, efficiency, productivity, and safety for our customers."
Q. When did Port of Brisbane first start to think about its "4P" strategy?
A. "While our commitment to sustainability was formalised in 2018, a strong sustainability culture has underpinned many environmental, social and economic actions across our business.
Our approach is centred around the four 'P's – People, Partnerships, Prosperity and Planet – which are broad themes that we believe will help us achieve our long-term goals and ensure sustainability at the Port takes a 'whole-of-business' approach. Our Sustainability Program – which is central to our business strategy – is aligned to the UN SDGs.
Q. Can you tell us a bit about the World Ports Sustainability program?
A. "The World Ports Sustainability Program is an initiative established by the International Association of Ports and Harbors that encourages collaboration and cooperation on sustainability throughout the supply chain.
We're very proud that several Port of Brisbane projects (that we've delivered with our partners) have been recognised as leading sustainability initiatives by the WPSP including the Brisbane International Cruise Terminal and our Offsite Stormwater Treatment approach."
Q. In Australia, and especially in your industry, what are your main environmental challenges?
A. "With many Australian ports located in sensitive coastal environments, we face a significant range of environmental challenges. As gateways to international trade by sea, ports are faced with the management and surveillance of unwanted pest species. Dredging is a critical and highly regulated requirement to ensure safe and efficient shipping and creates environmental challenges particularly around the management of the activity itself and management of the placement of dredged material.
Generally speaking, ports are also faced with a variety of other environmental challenges including air quality, noise, light, impacts on flora and fauna, and water quality and stormwater quality. Ports are also actively involved in resource management initiatives including reduced waste, water and energy use – and this is certainly a priority at Port of Brisbane with our commitment to achieve net-zero emissions, zero PBPL-generated waste to landfill and net-positive water by 2030."
Q. What's your biggest sustainability achievement so far? How have you measured this?
A. "We're proud to have delivered a number of achievements in this space, many of them with our customers and partners. A key outcome of our sustainability program has been removing the stigma that sustainability is just an environment thing to realising the broad benefits of sustainability across the organisation.
One of our major sustainability achievements has been the delivery of our offsite stormwater treatment program. Not only has this resulted in significant environmental benefits, including preventing over 10,000 tonnes of sediment from entering the Brisbane River and Moreton Bay every year and the resulting water quality benefits, but it has significantly reduced the cost of development at the Port of Brisbane and improved the resilience of nationally important agricultural land, adding significant financial and social benefits."
Q. What would you say to a company that hasn't implemented a sustainability strategy yet?
A. "While I wouldn't presume to provide advice to another organisation, I would say that our business has benefitted significantly from embracing sustainability right across our operations.
Recently, PBPL took its commitment to sustainability further by putting it at the core of our business strategy. We did this because we believe it's the right strategy to deliver the best outcomes for our business and for the long-term growth and development of the Port and our port community. "
Q. You've recently collaborated with Menard on the Brisbane International Cruise Terminal. Is the reduced environmental footprint generated by Menard solutions important to you? What do you think the overall magnitude of these improvements is?
A. "PBPL is always looking for opportunities across all our business areas to improve sustainability, including in the development of new projects. Innovation in the way we develop projects is essential to enable PBPL to achieve net-zero emissions by 2030. For PBPL, this isn't just about how the project will perform once built, but also what can be done during the design and construction process to ensure we are minimising resources, reducing emissions, and supporting local industry."
Q. What is your understanding of "Less Is More Menard"?
A. "To me, it's about continuous improvement – always looking for opportunities to work smarter, more efficiently and more collaboratively to deliver the best possible outcomes for your business and your customers."
Thanks to Daniel Burley for his time and work on this article.
We're looking forward to speaking with more sustainable leaders in our industry!